Early in her academic journey, Audrina Lim was introduced to sustainable architecture through a course in secondary school. Originally, she wanted to be an inventor or an industrial designer, but at fifteen enrolled in a solar-passive design course which altered the course of her future career!
Audrina started with Chandos Construction in 2022 as director, carbon transition, helping us work towards reaching our goal of net-zero by 2040. Her job gives her direct oversight of our sustainability strategy, she supports operations teams with innovative ideas and goals surrounding carbon emissions and helps us track and meet waste diversion targets!
We sat down with Audrina to talk about her journey throughout her career and how she found Chandos.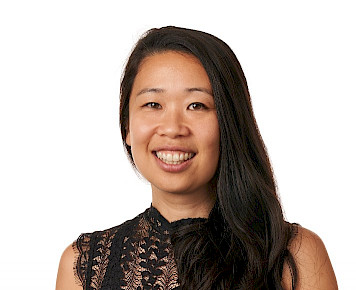 Q: What does an average day look like for you at Chandos?
A: Every day is different, which is amazing! I work on projects with the leadership team, Coordinate with our operations teams for LEED and other sustainability certifications on our projects and providing education on sustainability internally and externally. Getting a chance to interact with so many different teams is a great opportunity to get to know everyone. I help the proposal teams on sustainability strategies for upcoming RFP's, I also research and review our greenhouse gas emissions (GHG), which involves a lot of data collection and processing. There's a large variety of things I do; no day is ever the same.
Q: What is your biggest passion as an architect and an AEC professional?
A: I wouldn't say it's a passion but a necessity: climate-resistant design. That includes fire-resistant and sustainable designs as well! We need to build to last. It's a shock to Canadians to see all the wildfires, flooding, and other climate change-related weather patterns impacting our communities.
Wildfires hit very close to home for me, having grown up in Australia; in 2003, my entire community was severely damaged by a massive bush fire, almost 500 homes were lost in my hometown. Climate-resistant design and sustainable development is important globally as well; if we don't look at things differently, climate change is going to impact everything. We must find a way to be more accountable with our resources, and build with resiliency in mind, not only in Canada but also globally, where places like Tuvalu and Kiribati are at risk of losing their entire countries due to rising sea levels. I think efforts to develop climate-resistant buildings and infrastructure should be broadcasted so we can share knowledge and collaborate. We all have the ability to make a positive impact. No one is ever disempowered to make change, ever.
Q: Have you had any mentors throughout your career that have changed your mindset on sustainability in the built world?
A: Early in my career, I found a balance between ethics and sustainability. I realized architecture and the built environment are not about design; they're about responsibility and service. You, as the designer or builder, have to encompass this within design and sustainability. I recall one of my first jobs as an architect with Constructive Dialogue in Sydney, Australia. The team there really helped me realize the service we can give to our society through the built environment. They do such great work for communities with their approach to research and design.
I also want to mention the leadership team at Chandos. Jen Hancock [Vice president collaborative construction], Tim Coldwell [president], and Markku Allison [vice president, strategy, and innovation] provide me with so much guidance and wisdom when it comes to sustainability and our industry. They also have the passion to pursue new limits with what we can do as a company for sustainability, and it's really inspiring.
Q: What's a lesson you've learned since you've been at Chandos?
A: I think the biggest lesson I've learned so far is that everyone is so skilled at what they do, and all we need to do is create room for their skillsets to be brought to the table. It has been one of the most productive experiences of my career. Here, a big part of my job is helping people bring their sustainability projects and ideas to fruition, or to help showcase it. People dream up the innovation, and I help them find pathways with research and action.
Being the director of carbon transition, I hope to facilitate opportunities in sustainability for our team. This is a great chance for me to help foster synergetic movement in the company and sustainable thinking from our operations team. Every team I work with has brought forward amazing objectives and I'll always encourage them to share new ideas for sustainability.
Michael Heinrich, one of our site superintendents at Chandos, had a lot of great ideas this past year. He's been using the Internet Of Things (IOT) devices to monitor heating and hoarding on projects he works on; he also put forward a battery opportunity and a few solar power opportunities, which was great. Doug Robinson, another of our site superintendents has been really delving into mobile solar opportunities for our sites as well.
So many of our teams are doing an amazing job leading the way with sustainability on their projects. I see lots of teams learning about Volatile Organic Compounds in construction materials, pursuing LEED strategies, and looking at different ways to reduce waste, re-use construction materials and reducing emissions (and also saving money for the projects and our clients at the same time!)
Q: Why did you make the jump from architecture to construction?
A: I didn't choose to jump to construction; I chose to jump to Chandos. It was a selective decision for me. The way Chandos has created their ethos and how we work, it's the type of innovation I want to be part of. I am lucky to have known Markku for a long time. He showed me more about Chandos and all the sustainability and social changes they were making in the industry, and I knew I wanted to be part of an organization that has the opportunity for impact. Everyone here is behind the spirit, and it's a rare opportunity. It was a big decision for me to leave my profession after 20 years, but I knew this was where I wanted to be!
Q: Do you have any resources you recommend for someone who wants to learn more about sustainability?
A: I can recommend a free educational course that anyone can do; it's through an organization called Climate Science, and I really recommend the Climate Economics course. The course helps with understanding the balance between consumption, the environment, and society.
Do you think a career at Chandos is right for you? Browse our job postings here!
Back to blog