In 2011, Katelyn Stack made a decision that changed the trajectory of her career. She started working as a construction site clerk, and the rest is history. Today, she is a superintendent with Chandos and has years of experience in the industry.
Katelyn started working in construction during her summers off in high school as a general labourer. She had always known it was a career possibility, both sides of her family-owned construction businesses. As the time came to choose career paths many of her peers went down different academic journeys, but Katelyn decided on following in her family footsteps and continuing in construction.
We talked to Katelyn to learn more about her experience in construction and her approach to leadership on-site.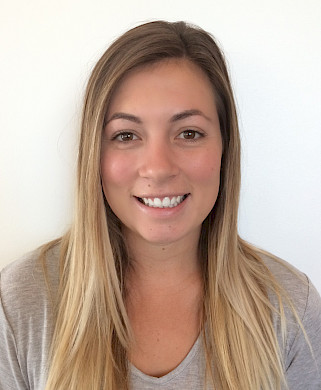 Katelyn Stack, superintendent
Q: Why did you get into construction?
A: I've been around construction since I was young. My grandfathers on both sides of my family owned construction businesses. I didn't think I'd end up in construction but working as a summer student and then as a site clerk at age 19, it gave me a lot of exposure to working in the industry.
Q: What were the first few years of your career like?
A: After I received my construction engineering diploma, I returned to the field as a project engineer. I coordinated formwork materials and equipment, enforced quality control and conformance with specifications, assisted subcontractors in scheduling their work, and built a lot of relationships with project teams and construction partners. I gained experience and learned how collaborative you need to be as a builder. There were a lot of challenges to overcome on-site, like extremely tight scheduling deadlines, intricately designed formwork projects, and one project involved working on live railroad tracks. Ensuring I had thorough health and safety procedures in place, applying a last planner system, and using BIM, I was able to work through these challenges.
Q: Why are careers in construction and sub-trades important?
A: It's tough because I think a lot of people aren't exposed to what the industry has to offer. A lot of younger people and their parents might not be aware of how great a career in the industry can be.

Every structure in Canada is touched by construction, there will always be jobs available in construction and so many new things to learn. I think jobs in construction aren't portrayed in the best light, it takes work and skill to get to this point. There isn't enough awareness in Canada of available jobs and not enough insight for young people to see that it's an opportunity.
Q: Do you think there are leadership opportunities in construction?
A: Definitely, being a superintendent means I'm not just directing a project but helping develop our talent and helping them develop career growth plans. I help mentor our craft workers. It's important for me to spend time working with them and help them put a five-year plan on paper.

A large part of my job is empowering my team; I spend time with people working on their soft skills and coaching them to be successful. Understanding people's skill levels and making sure they feel valued is crucial onsite, it helps us all avoid wasting time on tasks that can be done right the first time. I also try to build psychological safety, so the teams feel good about growing together and as individuals in their careers. Making sure people and teams know they're valued and that they're contributing is key, leaders need to put time and effort into their people!
Q: Have you been mentored at Chandos?
A: I've been mentored throughout my career, it's important to always have an open mind and continue learning. I have to give a shout-out to Mark White, (superintendent at Chandos). He's always been a go-to person for me, especially now that I'm getting into more technical projects like hospital work. Anytime I need him, I know I can call him, and he'll help coach me and provide me with info so my team and I can succeed. I appreciate how calm he is, his thoroughness and his passion for a culture of safety.
I've also worked closely with Fadi Shlah, director, business development, Chandos, on a recreational facility in Whitby. He was an amazing mentor and friend, he always maintained a positive attitude and kept site morale up. Our team overcame a lot of challenges together and he helped us bond as a team. I learned a lot from him and that job.
Q: What's your favourite part of your job?
A: I'm a very social and extroverted person, the relationship-building side of my job is something I love. It's great getting to meet new people, create connections, and learn something new from partners. Coming together as a team of highly skilled people with diverse experience and combining our brain power is amazing. Knowing I can rely on my team to share their insights with me so we can overcome project issues.
Do you think a career in construction is right for you? Browse jobs here!
Back to blog