When Anthony Thai graduated from SAIT, he wanted one thing—work experience. But the discerning Anthony didn't want just any type of work experience; he was interested in finding an organization that supported innovation. That's why an internship at Chandos Construction piqued his interest.
Anthony had talked to Chandos team members at SAIT's various networking events, plus; one of his classmates worked at the company. Through these interactions, Anthony learned that Chandos was on the leading edge of innovation for the construction industry: implementing integrated project delivery (IPD), using new technologies (like virtual design and construction) to gain a competitive advantage and implement lean principles.
During his internship, Anthony had the honour of working on his alma mater. He was the project coordinator for the new $750,000 electrical trade pre-employment lab; a metal working lab; and the John Ware renovation project.
"If you're looking for an opportunity to develop your skills and character in a fast paced environment; and you're looking for challenge, Chandos is a good place to go. The learning curve is steep here but it's a rewarding experience. I felt like I had the support I needed from the project team I was working with."
Anthony's biggest challenge was time management. He found that the project coordinator position saw new tasks and deliverables being brought up every day and initially struggled to accomplish his goals. Learning how to prioritize activities allowed him to manage his time better and stay productive.
Anthony's internship gave him a number of important new skills. Coordinating trades and hosting meetings helped him communicate better and feel more comfortable with public speaking. Learning new software upgraded his technical skills, and managing people and learning documentation processes are skills that can be applied across the construction industry.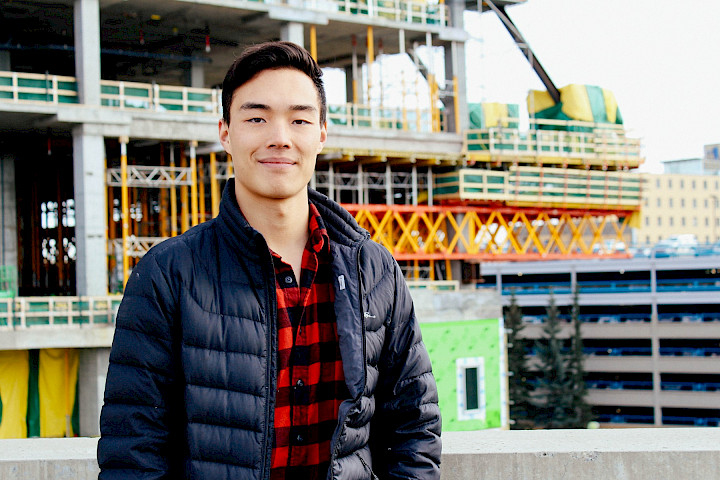 School: 

Southern Alberta Institute of Technology (SAIT)

Program:

Bachelor of Science in Construction Project Management

Favorite Class:

Project delivery methods

Future Career Goal: Project manage medium to large scale projects and sustainable buildings.

Department of Internship: Operation
The internship was a true test of the abilities and knowledge he'd developed through his training program. He enjoyed getting to apply those in a work environment. Anthony also derived satisfaction from getting to see projects like the pre-employment lab through to completion.
While innovation is important to him, it was Chandos' commitment to collaboration and teamwork that made Anthony want to accept an offer of full-time employment. He appreciated that everyone was willing to lend a hand wherever it was needed, and they wanted to help him learn the company's processes and procedures. He enjoys the company's highly collaborative culture that emphasizes employee development and innovation, and looks forward to creating higher levels of success for himself, the company, and clients.

Learn more about our opportunities for students. 
Back to blog