The wastewater treatment centre for the Town of Coaldale was in need of an expansion as the community continued to grow. We were selected to upgrade the existing 25-acre wastewater lagoon treatment system with a state-of-the-art cold climate nitrification post lagoon submerged aerated gravel reactor (SAGR) treatment system designed by Nexom. Throughout construction, our team was able to divert 97 per cent of the construction waste from the landfill. The new 3,444 sq. ft. facility houses an office, mechanical room, laboratory, electrical room, generator room, and UV Filtration room. The team's scope or work included:
Desludging the existing lagoons
Installation of new aeration system within the lagoons (including new blowers, aerators, and piping)
Construction of a single cast-in-place treatment facility with a chemical feed system, disc filtration system, UV treatment, and new generator
Upgrading the main lift station, including new pumps and VFDs.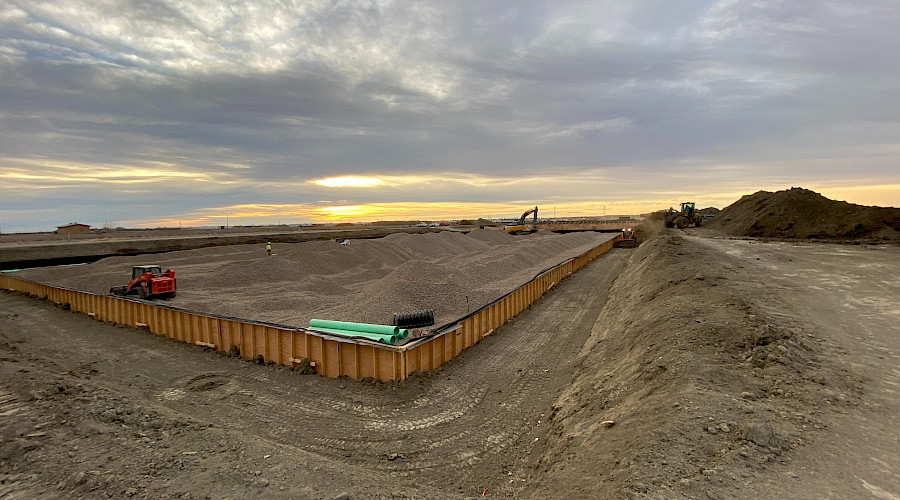 We utilized a collaborative team approach between sub-trades, consultants, and the client, helping to solve problems with technology and teamwork. The original design for the doors was too small to fit the lagoon disc filter through. The team caught this before the doors were even built utilizing the support from our virtual design and construction (VDC) team, building information modeling (BIM), and clash detection software. By coordinating with internal teams, the consultant, and our sub-trade partners, we were able to avoid rework costs and schedule delays by designing a bigger door.  
The project team also faced challenges from weather constraints, working around them by using prefabrication when possible. The roof trusses were built on the ground, then erected later to avoid delays, and 400 wall sheets were prefabricated in Lethbridge and shipped to Coaldale to accommodate the cold.
We are proud to have formed a strong relationship with the owner and consultant, while also helping the Town of Coaldale meet the community needs.
Back to projects