As a co-op student, Patrick Robitaille wanted a variety of internship experiences. So when he heard about an opportunity to join Chandos Construction in an estimating position, he jumped on it.
Patrick had already done two co-ops as a project coordinator. Learning the estimating side of things would give him front end knowledge and valuable skills he thought would help him regardless of where his career took him. For the first four months of his internship, he did support work for other estimators, learning all the ins and outs of estimating. In his last four months, Patrick was given five jobs to estimate, including the iconic Roxy Theatre in Edmonton.
Patrick remembers the Roxy as a highlight because of the chaotic closing. With numbers coming in late, the final adjustment letter was submitted seconds from the closing deadline. He's proud to have had a hand in winning the project and has a goal of physically seeing a building he's only seen on paper.
"Chandos doesn't treat you as a student but as a future full-time employee and they create opportunities to learn. There are a lot of experienced people around you who guide you and, if mistakes are made, they are able to correct them as you go. An internship here is an excellent opportunity to get your foot in the door."
For Patrick, the best parts of his internship were – and still are – the company, its culture, the people and the work. He found Chandos to be very open and friendly, with a relaxed atmosphere in which everyone worked as a team to get the job done. Although he learned that he preferred the operations side of the business, he enjoyed the competition of bidding for jobs, particularly looking at them from different angles to find an edge.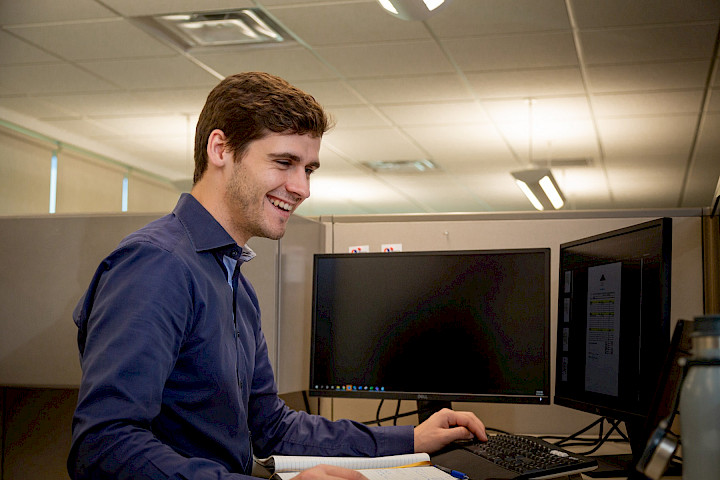 School:  University of Alberta

Program: Civil Engineering

Favorite Class: Tech writing class is the most useful.

Future Career Goal: Moving up the operation ladder and into the business side of the operation.

Department of Internship: Estimating
Patrick says the key skill he learned was how to go from a plan on a piece of paper to imagining how you're going to build it and putting together a package for getting the job done on time and on budget. As a full-time project coordinator, he finds that the experience in estimating gave him the ability to determine the cost of a change order before he goes to pricing. It also taught him time management because estimating has hard deadlines—if you miss a tender period you don't get the opportunity to bid and your work goes to waste.
Having worked for another company for his first two co-ops, Patrick says the decision to take a full-time job with Chandos was a no-brainer. He loves working at a place where the people are happy to go work every morning rather than just trying to get through the day. He also appreciates how the company ensures that he's ready to take the next step as his career progresses rather than leaving him feeling like he's been thrown in the deep end without a life raft.

Learn more about our opportunities for students. 
Back to blog