The real work at Chandos happens on sites and in our offices all across Canada. Our employees are not only encouraged to pursue their professional passion, they are provided with opportunities, resources, and support to develop and grow. That's because being part of Chandos means being part of a unified team. 
Every year, we give our teams the chance to nominate their coworkers' achievements with the Chandos Awards! Our team members can submit a nomination for a coworker and our senior leadership team announces the winners. In 2021, we're proud to recognize four areas of excellence for craft, innovation, safety, and leadership. 
Congratulations to each of the winners! Please join us in celebrating the great efforts and achievements of our entire network.
Craft Worker Award
Award criteria: The Craft Worker Award recognizes the exemplemarly quality, productivity, safety, teamwork, leadership, and attitude of an employee. Our craft workers perform a wide variety of tasks and this award focuses on highlighting a team member whose continued focus on developing their skills has inspired those around them. 
Winner: Eric Scroggins, Craft Worker in Edmonton, Alberta
Currently working on: The Prince George pool replacement 
My favourite part of my job is the stress and tight deadlines where everyone comes together as a team.
Nomination from coworkers:
"Eric is very intuitive, knows what needs to be done and makes sure the [team] is happy with the job site. He has a passion for mentoring and working with people" - Brian Hennessey, Superintendent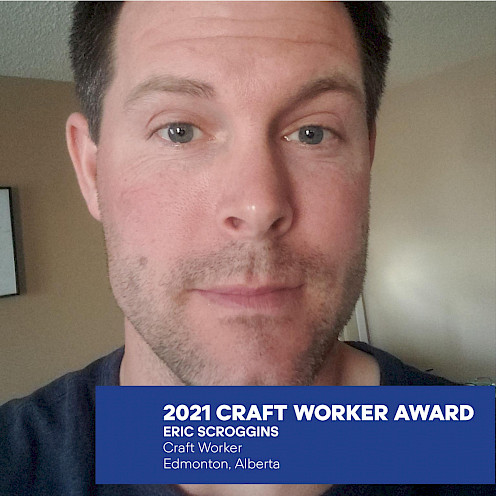 Innovation Award
Award criteria: The Innovation Award recognizes an employee's focus on continuous improvement and innovation. This is about more than a set of tools or processes to improve productivity; it's a never-ending drive for perfection, in everything they do, through continuous improvements to products, services, or processes. 
Winner: Kinsey Kindt, Project Coordinator in Calgary, Alberta
Currently working on: SAIT campus projects
"The best and most satisfying part of my job is using the innovative tools I've introduced on a regular basis. This includes flying a drone to capture progress photos, 3D printing specialized items, and using cameras to create 3D models for clients."
Nomination from coworkers:
"Kinsey turned a $3,000 problem same-day into a $1 solution by 3D printing. So simple and so smart. This was a win for our client and for us. I like to see this kind of innovation from a new Chandos member" - John Kyle, Superintendent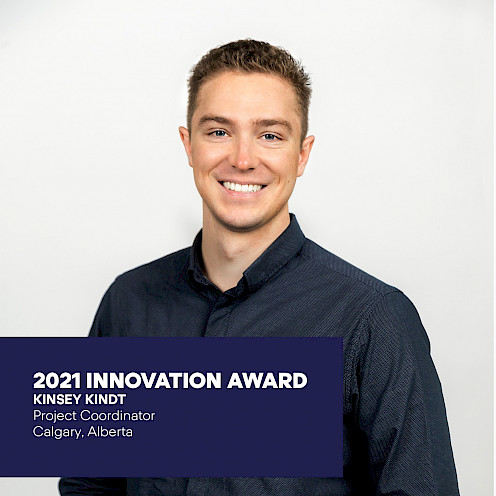 Safety Award
Award criteria: The Safety Award is intended to recognize safety leaders who go beyond procedures and rules. They are team members that focus on the safety of a worksite and ensuring, above all, safety is put first. Our teams take pride in ensuring their job sites are clean, organized, and stocked with the correct tools.

Winner: Laura Church, Craft Worker in Vancouver, British Columbia
Currently working on: SFU Stadium

"I take pride in safety in our company and have made it my mission to ensure all workers are safe at all times. I work hard to show that I care about each and every worker."

Nomination from coworkers:
"Laura has a passion and energy for her work as the safety designate and is dedicated to protecting her team, our partners, and the general public. She brings joy to her work and shares it with her colleagues." - Nicole Monaco, Director of Marketing and Communications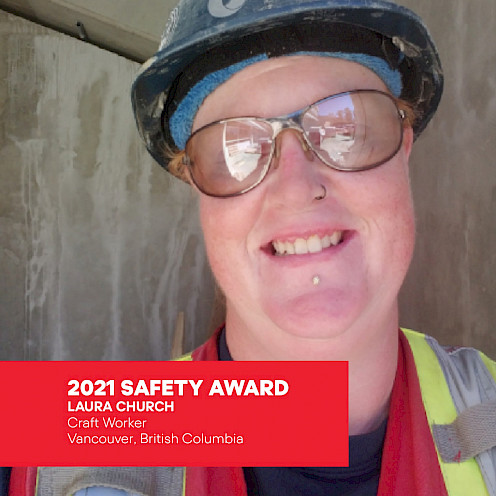 Leadership Award
Award criteria: The Leadership Award recognizes employees who go above and beyond to empower others, align teams, execute with excellence, and truly live Chandos values. A leader at Chandos works to bring together team members, partners, and clients to deliver on project promises. This year, we received 100 nominations for this award. We are proud to see so many team members nominating others as leaders within Chandos.
Winner: Michael LaRocque, Project Manager in Red Deer, Alberta and Kelowna, British Columbia
Currently working on: Lloydminster Fire Station #1 & Red Deer College Four Centres Building
"I'm very fortunate to see all sides of a project from pre-construction, construction, post-construction - I get a glimpse behind all the curtains. The biggest thing for me though is meeting all the great people and really building relationships with them, whether that's co-workers or clients.  I'm blessed with the people around me being exceptional at their jobs, from the field staff I get to problem-solve with, to my colleagues in the office that are always willing to help."
Nomination from coworkers:
Michael has an ability to bridge the gap between the office and field. He goes above and beyond and brings out the best in people by listening with an open mind and a can-do attitude that sparks a true team approach. Well deserved award!" - Sid Callies, VP Corporate Development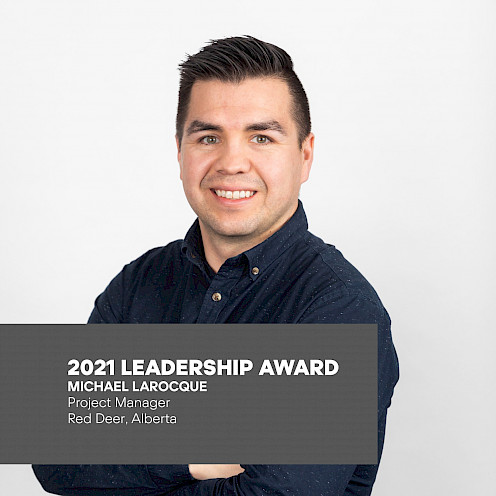 Back to blog