We recently sat down for a conversation with Milton Harris, our general foreman in Calgary, to commemorate Black History Month.

And to learn.

We learned about his ancestors and unique cultural roots. We learned how he's handled discrimination, and why he thinks it still exists. And we learned the importance of Black History Month and the positive change it can bring. 
What is your cultural background?
I'm part African-American, part European and part Indigenous.

My European roots are from my mom's side, and my African-American and Indigenous roots are from my dad's side. 

My dad's ancestors migrated through the Underground Railroad and were a part of the slave trade. There is a place called Amherstburg, Ontario near Windsor, and the Underground Railroad made its way to there. A lot of the slaves from the deep South in the United States would try to make their way to Amherstburg. So, there is a huge African-American community around that area where I grew up.

Where did you start your career?
I moved to Vancouver when I was 20. My uncle Mark was the business manager of the ironworker's union in Windsor, he also had a connection in Vancouver, so I started my career there. I did 12 years of iron work, got my Red Seal certification, and after that I started doing night school for construction management, and started working in the industry. I learned so much being in the field, and the opportunity for Chandos came up.

Why did you want to work with Chandos?
I wanted to find a company that I felt connected with. I went to a recruiting agency, and they gave me a list of three companies that were looking to hire. I did some research and Chandos stood out. I could tell they did unique projects and weren't just focused on the cookie cutter high rise buildings that I was used to.

The fact that Chandos is employee owned was also intriguing. I could tell the company had a strong social purpose and culture.  After my first interview, I knew Chandos was right for me, and that I was right for it.

I started my career in Vancouver and transferred over to Calgary after two years. I've been with the Chandos going on three years now.

What has your experience in the construction industry been like?
It has been awesome. I love construction. Being an iron worker, I came from the rough and tough industry. I'm glad I did it, it taught me to have a strong work ethic.

But getting into management, you must change that ruggedness a little bit, and work on your people skills a bit more. I've been trying to teach myself that quite a bit.

Have you ever faced any discrimination? Career-wise or personal?
Yeah, I have. Definitely. There have been a few times when it has happened. That stuff is everywhere. I never really let it get to me.

There have been a couple of times where it went overboard for my liking, and I just let the person know how I felt. My parents taught me how to stick up for myself while I was growing up. You can diffuse situations if you put your mind to it.

There have been a couple of racist incidents - especially being in the ironworker's industry. You have these old guys that have this old mentality and I've heard it a couple of times. I've been in the industry for 18 years and I can remember maybe three times where people have stepped out of line, called me the n-word.  

I understand that this stuff happens all the time. All over the world. I can't speak for all black people everywhere, but I think we're fortunate in Canada especially with how diverse we are.

I've really been trying to pride myself on trying to diffuse the situations, letting people know how I feel. It just comes down to the person and how you deal with situations. That kind of stuff just makes me stronger.

When you tell people how you feel do they apologize?
I found they backed off all the time. I sometimes think people do that just to see if they'll get a reaction out of me. And then if you let them know how you feel, let them know you're not going to stand for it, usually it diffuses the situation.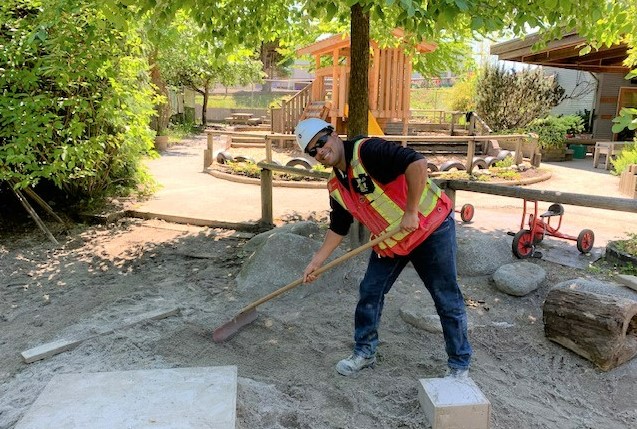 Is it correct to refer to someone as 'black'? Or is African-Canadian/African-American more correct?
It hasn't bothered me whatsoever for someone to call me black. I compare it to any ethnicity that's not around the dominant culture. So, say there's someone of Asian descent around black people, I would say 'the Asian person,' to point out who it is. If it's a white person, I'll say 'white person.'

And again, I can't speak for every black person out there. I was raised to treat everyone equally. Where I'm from - in Harrow near Amherstburg - there were many black people living there. So, it's not like I was raised in a predominantly 'white' area. But the experience might be different for people who were.

According to a Ranstad survey,  77% of racialized Canadians admit to being 'on-guard' to face discrimination at work – what is your reaction to this?
I never felt it. I have never been on guard. For me, you are who you are. That has never been an issue for me.

Do you feel that minority groups have the same opportunities and access to jobs as everyone else?
I do and I don't. I feel like I've had equal opportunities. I am a firm believer that if you want something, you go out there and get it. And that's what I chose to do when I was younger, and I am where I am in my career because of that.

I've had no push back because of my race or anything along my path to getting here. And that's just my personal experience.

Do you think there is fair representation in the construction industry? In all roles?
I think we're trying. We have to remember that it was a predominantly white, male-dominated industry 20 to 30 years ago. And we've come a long way since then. The initiatives that are out there now in trying to reach different ethnicities and get them into construction are successful. Chandos does an amazing job with that. If every other construction company, or every other company in general, can do the same thing, I think we'd be in a great place.

Do you ever sense like companies are jumping on the diversity and inclusion bandwagon because it's a trend?
To me that's ok. Because even if they're just jumping on it because it's trending, we're still giving people opportunities.

We are on the hunt for trades people in Indigenous communities for example, who may not even know which opportunities are available to them unless someone goes out to find them. I think Chandos does a good job of finding this talent. These people work just as well as anyone else. And if another company is jumping on the bandwagon, then whatever, they're getting involved in something important.

What does Black History Month mean to you? Is it important to observe/acknowledge?
Absolutely. Everybody knows the turmoil that's happened in the past. The turmoil that's happened recently. Unfortunately, it's not going anywhere any time soon. But the more we can bring it to everyone's attention, not hide behind it, not pretend there is nothing wrong, admit that there's a stigma out there, the better it's going to be for everyone.

Black History Month really brings that out. People talk about all of those things during that time, and I hope they'll continue talking about it, and act on it to make a positive change.  

Why do you think discrimination still exists?
It's hard to change the way a massive population thinks. You can change the individual but when you have a group of people who've been thinking the same way for hundreds of years, it's going to take time to make that change. I think we're doing that. We just have to keep chipping away at it. We're on the right road.

And with all the turmoil that's happening today and in the last couple of years with African Americans I think it's bringing it to light even more. Even though it's a terrible thing, people are seeing it and realizing it.

There is a ton of good people in this world who want to see a change for the better. I think we're headed in the right direction. I think by the time my son grows up; we'll see a much better world.
Back to blog