We recently completed our cross-country events. And connected with local leaders working in the built environment to explore our role in shaping our possible future.  
 
Making stops in seven cities – Vancouver, Kelowna, Red Deer, Edmonton, Calgary, Ottawa, and Toronto, the events welcomed hundreds of partners, clients, and industry influencers.  
 
"It's really interesting to see a construction company like Chandos, holding this pretty big series and talking about how business should be done, how buildings and communities should be built so we have a thriving future and a thriving world for all," said sustainability advisor, Andrew Winston.  
 
"We have really big problems in the world, and we need to partner to solve them. The built environment is at the centre of all of our problems and our solutions," he adds. "It's a conversation that really needs to happen."  
Each stop included a keynote from Winston, one of the 50 most influential management thinkers in the world and best-selling author of Net Positive: How Courageous Companies Thrive by Giving More than They Take. He highlighted the need for all businesses to take charge and commit to changing our industry.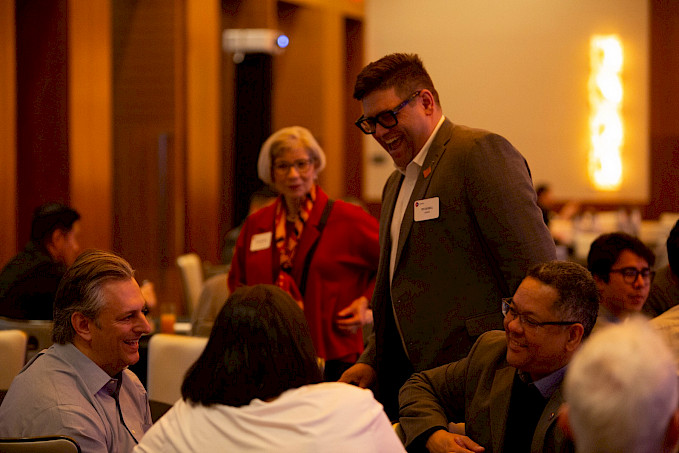 "Being net-positive happens when one industry does something good, and creates a ripple in another industry," said our president Tim Coldwell. "Many operate with an us versus them mindset - and that stifles innovation. I want to highlight the Canada that we can build together, and what the construction industry is capable of. When leaders get aligned and say: we can address some of the greatest issues in society."  
Coldwell was also one of the headlining speakers at these events. The program also included panelist discussions that focused on ways we can reduce carbon emissions, support Indigenous communities, and use purchasing power to promote social progress—all while increasing profit. 
 
The building and construction industry is uniquely positioned to support these efforts. Specifically, through:

NET ZERO EMISSIONS
Achieving net-zero emissions is not possible without long-term partnerships, commitments, and alignment with supply chains. Embodied carbon in buildings is expected to become half of GHG emissions by 2050. This means changes must occur across the entire construction supply chain. We must embed carbon emission criteria into our buying decisions, and work with trade partners and suppliers to share best practices and reduce embodied carbon in processes and materials.  
INCLUDING INDIGENOUS VOICES IN THE PROCESS
Indigenous communities in Canada are facing some of the greatest infrastructure deficiencies, and in some cases still lack basic human-needs infrastructure. At the same time, traditional building methods with a combative culture, hidden profits, and opportunistic firms exclude Indigenous people from the construction process. Indigenous people can improve the way we build, through their experience and culture and ways of working, we can learn from them. Collaborative construction is a way to bridge the gap between industry and Indigenous people. 
 
One project example that adapts this is the future build of the National Centre for Indigenous Laws at the University of Victoria. The facility will house the first Indigenous law degree program in the world, and will be built in consultation with Indigenous community members including the lək̓ʷəŋən peoples on whose territory the university is built on; as well as Elders from Esquimalt, Songhees, and W̱SÁNEĆ Nations.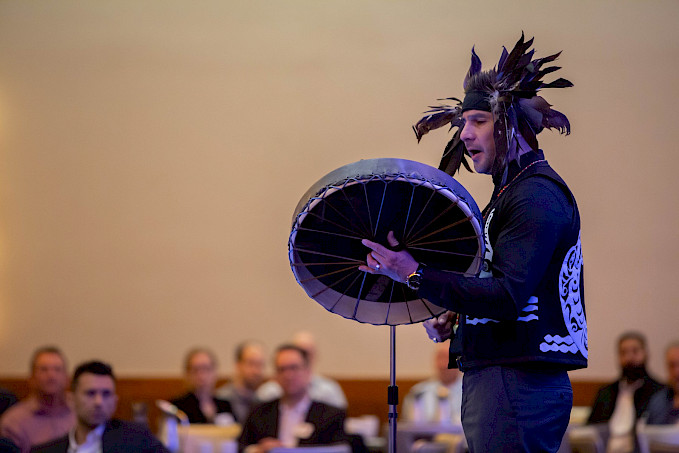 INVESTING IN SOCIAL PROCUREMENT
Social procurement is the practice of procuring products and services from organizations that make a direct and positive social and environmental contribution to the local economy. When you include social value criteria in your procurement policy, you're supporting companies that use their profits to build a better society without having to spend more. It is said that $1.4 billion of social value can be generated if the construction industry committed just one percent of its spend to social procurement. 
Through social procurement, we can use our labour force to: provide employment opportunities for local people from equity seeking groups; expand diversity in local businesses; reduce poverty and strain on the Canadian social system; provide work, offer skills training, and pay fair wages to people from equity seeking groups; and support business that are working towards the goals of the Paris climate agreement. 
WHAT NOW? 

We need leaders like you to act.  

Winston spoke about what it means for businesses to be net positive. And it's going to take work and commitment from everyone in our industry to reach this goal. So how do we get started? Take the readiness test today and see where your organization is in its journey. 
 
Also, check out Buy Social Canada's Guide to Social Procurement in Construction and Infrastructure Projects. For resources on how to implement social procurement into your organization's operations.  
 
And learn about the newly unveiled National Indigenous Economic strategy (NIES). A coalition of more than 25 National Indigenous Organizations unveiled NIES which acts as a "blueprint for inclusion of Indigenous Peoples in the Canadian economy." Supported by 107 Calls to Economic Prosperity, NIES offers guidance for governments, industries, and institutions in reconciling, collaborating, and rebuilding Indigenous communities. 
There are many ways for businesses to be a force for good. And they should be - they must be. It will take all of us to create a prosperous future for all. To build a better world.  
Back to blog