Keegan Starlight is an Indigenous artist from the TsuuT'ina Nation. He has been painting for more than 20 years. And his work is completely inspired by his culture.

The Tsuut'ina (meaning 'many people') are a First Nation stemming from the Dene tribe. Starlight says that they're "very much a community. We're wholeheartedly for each other."

According to the Canadian Encyclopedia, the Tsuut'ina split from the Dane in the 1700's and moved to the plains. Today, the Tsuu'tina territory is a 280km2 reserve in southern Alberta, bordering the southwestern city limits of Calgary.
Starlight was born on the reserve and currently resides there with his wife and three children. Early on, he learned the importance of caring for the land and building a strong work ethic. And growing up, he said he understood art more than anything else.  

"I was in grade three when I started, and I just liked it," Starlight said. "At first, I replicated the pictures I saw in comic books and video games. I didn't think it was going to be a career when I grew up."

His wife realized that he had true talent, and encouraged Starlight to go to the Alberta College of Art and Design.

"Things took off after that. I looked at college as a time for experimentation and I tried everything. From painting to drawing, to using charcoal and pencils."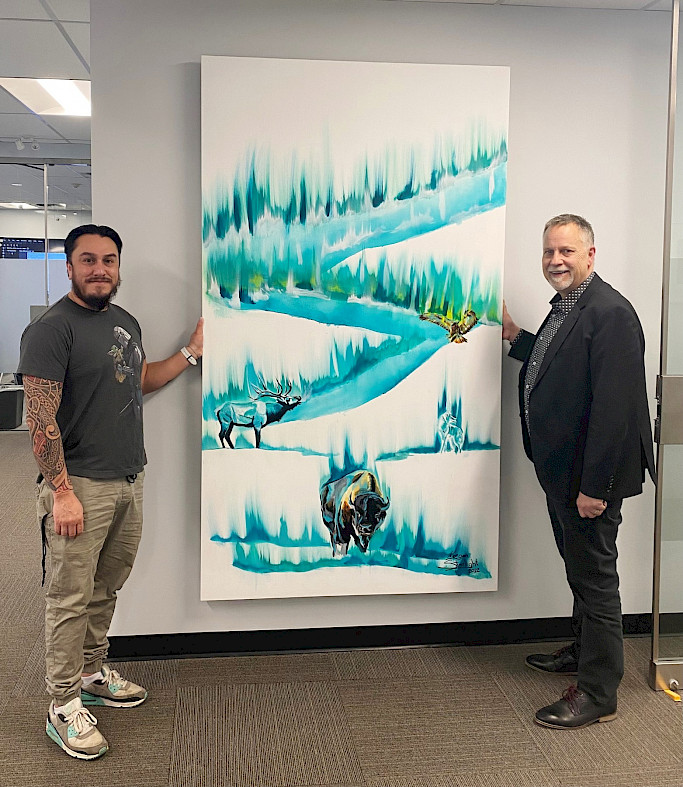 In line with our social procurement initiative, we wanted Starlight, a local artist, to do a painting for our recently renovated Calgary office. The piece he created features images of a buffalo, elk, hawk, and coyote.

"Animals are a huge part of our survival. My people migrated with the animals, and they taught us how to survive," he said.

Starlight explains that the buffalo and the hawk – the ones with colour - symbolize the connection between the earth and heaven. The hawk takes prayers from the heavens and brings them down to the earth. The buffalo, which is always on the ground, takes our prayers to the creator. The elk and the coyote are bridging the gap between the buffalo and hawk.
'Bridging the gap' is something Starlight thinks companies and individuals can also do when it comes to reconciliation and providing opportunities for Indigenous people.

"I think that there is a lot of talent and a lot of smart Indigenous people out there, but the opportunities have not found them. They don't know where to look. They don't feel they're part of the bigger community," he says. "That invisible line is still there. When you're [on the reserve] it feels like home, but when you leave you feel like you're not at home anymore. And that needs to change."

When asked what he thinks about Canada marking September 30 as the National Day for Truth and Reconciliation, Starlight said it's a step.
"It's better late than never. It's such a new concept not only to Canadians but to the Indigenous people as well. We have no idea what reconciliation is supposed to look like. People can say 'sorry' all they want but what does it mean to us? What can we do to move past it? It's hard. Because the scars of a generation are speaking."
 
Starlight shares that his grandparents attended residential schools. And that a lot of his family members have been tight-lipped about it.

"It made for a hard life. Having to relive all of that. My parents took us away from the cycle and how it could have impacted us. The aftermath of the residential schools destroyed families and communities. And my parents took us away from the trauma and the negativity that it created. I thank them every day for it."

He says there a more resources for Indigenous communities and children today, and that they have more access to technology and jobs. The younger generation now is even more interested in learning their culture and preserving their language.

"That's a huge part of who we are. And a big reason why we're still here. Because we've held on to those traditions," he says. "But the division is still present. The whole child welfare system is geared to separate, and they need to change that whole aspect. They have to house our people in the community in a safe way."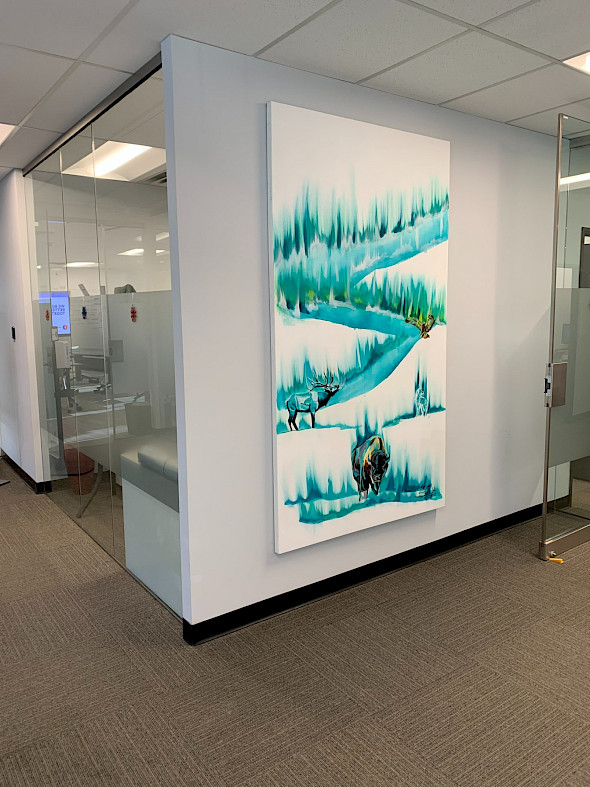 What can we do?
"Educate yourself," Starlight says. "There is lots of literature out there that talks about the residential school system, and it's not whitewashed."

He suggests we pull back on just asking Indigenous people about their story – because every experience was different. He urges that we start asking questions to our leaders and institutions.  

"I admire everyone taking part in reconciliation, but I just don't want it to be a publicity stunt. I love the fact that companies like Chandos are hiring Indigenous people from the area to help support the community. You're breaking that cycle of non-inclusion and inequality."


RESOURCES:
Learn about the Truth and Reconciliation Commission's 94 Calls to Action.

Take a free Indigenous Canada course from the University of Alberta.

Support local artists like Keegan Starlight.
Back to blog