We're working together to help keep our people, trade partners, and clients safe.
The construction industry already operates with a high-level of safety and discipline, and the specific COVID-19 measures we've put in place are designed to help keep everyone working on our sites as safe as possible.
The measures and controls we've implemented and the close monitoring of each of our job sites, allows us to keep operating safely. Below is an overview of our current COVID-19 site protocols. We've established a task force to continuously improve on the below and we'll be updating this page frequently to reflect changes.
Mandatory COVID-19 Chandos Site Policy
UPDATED (2021-09-15) Vaccination Verification

UPDATED (2021-06-29) Chandos Covid-19 mask policy

Unless an exemption is provided (see below), masks are mandatory PPE on Chandos sites and in Chandos offices, and workers must comply with the following:

Wear a disposable or homemade mask:

Homemade masks may be used if the worker can ensure the cleanliness of the mask and cleaning instructions provided by the Public Health Agency of Canada are followed (referenced below)

All other companies on Chandos sites will be required to adhere to the Chandos mask policy.

Variances to this policy may be granted on a case-by-case basis. A worker may request site-specific PPE variances, which will be reviewed and approved by the site superintendent or district manager.

Masking Exemption:

Mask exemptions are only applicable in jurisdictions that have lifted mask requirements. The masking exemptions will be reviewed and updated ahead of our vaccination requirement date of November 15, 2021.

For workers to receive a mask exemption they must demonstrate they have received, at least fourteen days earlier, one dose of a Covid-19 vaccine by displaying proof of vaccination for visual inspection to the site superintendent, district manager, or their designate.

Once confirmed, the worker will receive a mask exemption sticker that must always be visible. These exempt workers are still required to physical distance as per Chandos policies.

If maintained physical (social) distancing is not possible, due to space constraints (i.e. in a staircase, hallway, or electrical room), the worker must wear a mask.

It is imperative that we go out of our way to practice social (physical) distancing.

Always keep a minimum of six feet between yourself and other people.

If this is not possible due to space constraints (i.e. in a staircase or electrical room), any worker must wear n95 masks and disposable nitrile gloves.

(2020-03-31) Designated COVID-19 safety coordinator

Each site will designate a COVID-19 safety coordinator and most sites will designate the Superintendent to fill this role.

Speak with the Chandos Superintendent to find out who the designated COVID-19 safety coordinator is.

(2020-03-31) COVID-19 hazard assessments and inspections

COVID-19 risks and new safety protocols are integrated into our project and task hazard assessments.

Weekly site inspections include COVID-19 safety protocol.

The process will help determine an appropriate response based on COVID-19 contact or potential contact by a worker on-site.

Not every scenario is covered however the intent is to provide a framework to help guide decisions.

Superintendents are responsible for applying this process on sites with the support of our safety team and management team.

UPDATED (2021-06-28) Self-isolation must take place according to provincial guidelines.

Site superintendents or their designate will follow the local health authority guidelines when enforcing self-isolation and all workers on site are required to abide by these mandatory requirements.

(2020-03-26) Access limitations

In order to keep our sites as safe as possible, we're limiting site access to workers on an as-needed basis.

This means that a new worker may not be able to access the site and may have to wait until the next orientation is scheduled.

Superintendents are setting the orientation schedules for sites.  Please speak with the Chandos Superintendent if you are planning on introducing a new worker to site. 

(2020-03-26) Deliveries

Whenever possible, all materials should be isolated for 2-5 days prior to its use on-site by workers.

Subcontractors are requested to work with Superintendents to coordinate just-in-time deliveries that allow for an isolation period.

All sites will post the following notifications:

(2020-03-27) Main site entrance sign that states, "Due to COVID-19 all workers MUST report to your supervisor upon entering the site - No Exceptions. If you do not have a supervisor on site, call the Chandos Superintendent at [insert number]"
(2020-03-27) Delivery entrance sign that states, Due to COVID-19 please call Chandos Superintendent at [insert number] to coordinate delivery."

Sign on all building and trailer entryways stating "You must disinfect your hands before entering."

Hygiene and prevention awareness posters.

Install disinfecting / hand washing stations for mandatory use:

At the office trailer entrance.

At other designated entry points.

Whenever possible we will use hot water.

Notify staff that they must wash hands upon entering and exiting buildings.

Chandos workers will enforce this at the doors for breaks until it becomes part of the culture.

Practice good hygiene by following these steps:

Wash your hands frequently for at least 20 seconds

Do not touch your face, especially your mouth, nose, and eyes.

Cover a cough or sneeze with the bend of your arm (but if you are sick, you must go home immediately)

Do not share food, beverages, or other items.

Be proactive about cleaning and disinfecting areas or items you touch.

Daily site sign-in process is as follows:

Foreman of each subcontractor to conduct their own sign-in, using a new Chandos sign-in sheet with a COVID-19 questionnaire, and submit it with accurate numbers each morning.

Foreman must follow the submission requirements on each site, per the Superintendent (i.e. electronic or manual).

Site trailer and facility cleaning:

All site trailers are to be cleaned and disinfected daily or on a routine basis, depending on multiple shifts.

Main office trailer to be cleaned and disinfected twice a day. All surfaces disinfected including keyboards, remotes and any other high-touch areas.

Chandos staff will disinfect all door handles on-site twice a day including trailers

Outdoor washrooms will be cleaned more frequently by service providers.

(2020-03-25) This Cleaning Log must be posted in all trailers and washrooms for tracking purposes.  

Equipment and tool cleaning:

If you are exiting or entering a lift or any other piece of equipment you must disinfect the rails and controllers.

Shared tools and battery stations must be disinfected prior to and after use.

(2020-03-23) Personal Protective Equipment:

Any workers within a space that does not permit them to maintain a safe distance from one another are to wear an n95 dusk mask to avoid transmission and disposable nitrile gloves.

Gloves must be changed as tasks change or if damage occurs to gloves.

Safety glasses cleaning station will be replaced with individual wipes.

Food and beverage:

Workers and anyone on site must supply their own drinking water.

No sharing of drinking water, food, beverage or other items; water and coffee stations have been removed from all sites.

Workers and onsite employees must adhere to social (physical) distancing criteria during lunch and coffee breaks.  Consider staggering times and/or eating in vehicles.

(2020-03-23) Meetings:

Site superintendent will update subcontractor foreman of any changes or new site protocol on-site every morning.

Meetings will be limited to 10 people and take place outside or in a large, well-ventilated area.

Safety and all other meetings must take place outside or in large, well-ventilated areas and follow the 10 person rule.

If 10 people can not stand six feet apart from each other then the number of physical attendees must be reduced accordingly.

We still recommend all meetings take place via video conference or teleconference whenever possible.

This applies to all meetings, including in offices or in big rooms.
If you would like to speak with a member of our team about these measures, contact one of our offices or send us an email.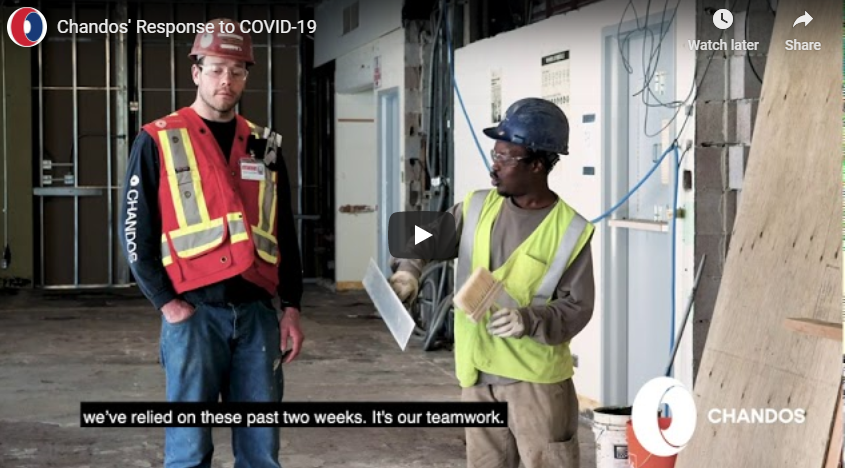 Back to blog