When Azadeh Azizi, our junior estimator, was a little girl growing up in Tehran, Iran, she dreamt of building schools and hospitals for the small towns surrounding the capital.

You could say that 'construction' is in Azadeh's blood. Her father was an engineer. Her grandfather an architect. She says that even if she stayed in Iran, construction would be the industry she worked in. It's where her passion lies.

We recently profiled Azadeh in commemoration of Canada's Islamic Heritage month. We spoke to her about her career, what her experience as a woman (a Muslim woman) in the construction industry has been like, and some of the misconceptions and stereotypes she's faced in her life.


When did you come to Canada? Where did you start your career?
I came to Canada in 2013. My husband was already working here, and I joined him.

We were living in High River, AB, just south of Calgary. I was working as an administrative assistant for a bank. At the same time, I was pursuing my studies and working to get certified as a construction estimator because I knew that was the path I wanted to take.

What brought you to Chandos?
I was working in a subtrade environment and I thought it would be a good professional move to go to a general contractor. I wanted to be exposed to and learn about all the elements that went into building something.

I saw a posting on LinkedIn, and I messaged the manager. We set up an interview and the rest fell into place. Based on that experience, I respected Chandos so much in how they treated me during that initial process. I could tell right away that I was going to be in an accepting environment.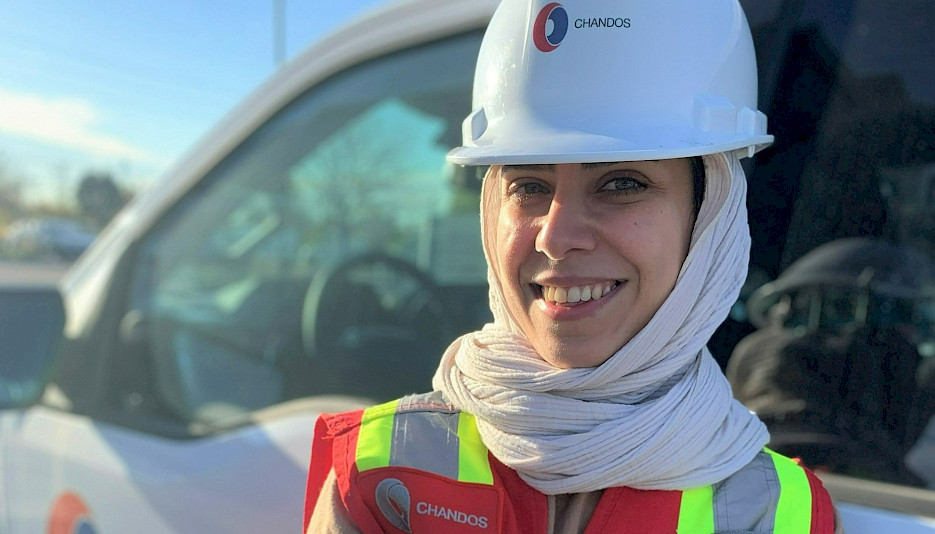 What has your experience in the construction industry been like?
In general, it has been good. But sometimes, I have felt discriminated against. For example, I would go for a job interview and feel like they don't like me for wearing a hijab (a veil wrapped around the head) and for looking differently. I could feel that they didn't like my appearance and didn't really care about my knowledge.

I have only experienced this a few times. But I know many women, many Muslim women, face this more often. I know some that have stopped wearing a hijab so that they could further their careers. Many have told me to do the same.  


Why do you choose to wear the hijab? What does it represent?
In my culture, we are encouraged to be modest. I believe Wearing a hijab is recommended but it isn't mandatory – no one can push you to accept it.

Having a hijab for me is a connection to God. Moreover, it differentiates me from others, and it shows people who I am.

There are many Muslims women who don't wear it – and it is their choice.

What are some misconceptions about Muslim women?
As mentioned, some think that wearing a hijab is forced by men, this is not true in most cases. It is important to know that those that do choose to wear it, only do so in public places. They do not wear a hijab inside their home.
 
Some think that Muslim women don't have many or any rights. But in general, women are equal to men. They can own property. They can have a career. They can study.

Arranged marriage is another misconception. There is no such a thing in Islam. There are some locations that have arranged marriages, but this belief applies more to traditions and cultures of specific communities. My husband and I, for example, were friends before we married. So were my parents.

Some also think that Muslim women are oppressed by men. This is a stereotype. This type of thinking comes from a small group of Muslims, but the mainstream applies it to all Muslims.

Rarely does someone ask me what my specific belief is. They just assume all the above. That causes many Muslims to change their traditional name to avoid this pressure and misunderstanding. There are so many that change their name for fear of being negatively labelled or associated with an extremist group.

From your experience, has being Muslim been restrictive in any way?
In general, I have been a lucky Hijabi woman. I have been exposed to kind, accepting people.

But sometimes I have felt like that there is an invisible barrier between me and other people. Like they don't feel comfortable with me because I am Muslim. When you have a hijab, the barrier is automatic. For me it happens a lot. But once others get to know me, it becomes easier. I give people time to process. Time to be next to a Muslim woman.

Some people are scared because of all the news regarding Muslims. Many associate Muslims with terrorists. That we promote terrorism. But that goes against everything Islam stands for.

All my life, I have been responsible for the craziness of those extreme people. Every time we hear about a terrorist attack, we think: 'please don't let it be a Muslim.' And after each attack, Muslims are bullied again, or discriminated against again, or stereotyped again. Muslims experience terrorism too.

Sometimes it feels like we are constantly under a magnifier. And in those times, it can be hard to be a Muslim.

But I am the kind of person that believes in herself. I know who I am. Just because those negative experiences didn't break me, it doesn't mean that they didn't affect me.

I was lucky enough to pursue all my ambitions and hopes and dreams. I think being in Canada, and in the GTA, because it is such a multicultural place, I have the tools to pursue my ambitions. And there are also many resources available for others who want to educate themselves. And there are laws in Canada that protect people from hatred. Imagine if there weren't any laws? I am lucky that I am here.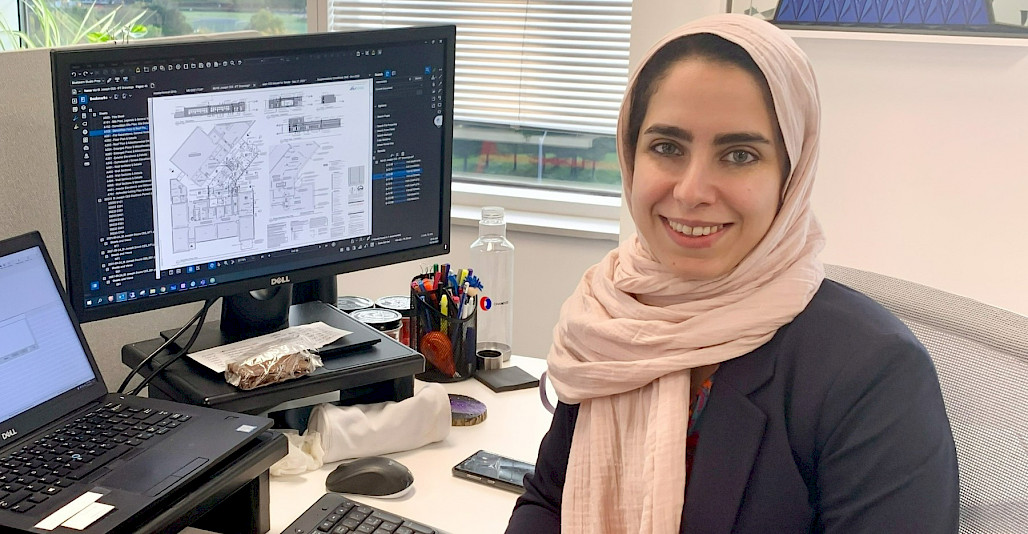 Is a career in construction unusual for a Muslim woman?
Again, it depends on the location. In North America obviously it is not an issue. But in many countries, it is not common.

In Iran, for example, it is ok in big cities for a girl or a woman to be in construction, but it is not typical for those in small towns. The thinking is that women are not supposed to be doing the hard jobs. They should be doing housework. This is the mentality in some places.

Some of those ridiculous rules have nothing aligned with Islam. In my opinion, some people are using the Quran as a tool for personal and selfish gains. And that's where the misconceptions are. And that's where the misunderstandings are between Muslims and everyone else. This is a big battle for Muslim women. To fight against these unrealistic expectations.

What do you think the industry has done well in terms of inclusion and diversity?
Even in North America, it hasn't been common for any woman in general to be in construction. But now, we are seeing leaders in the industry make changes to be more inclusive, to promote people with diverse backgrounds and skillsets.  

I think this shows that we are moving towards equality of all people.

What are some ways the industry can improve its role in inclusion and diversity?
I think everything is about education. And educating people even more about different cultures, beliefs, upbringings.

It is always good to ask if you don't know something. But it's important to know how to ask a question. Sometimes, people will ask something just to be rude and harmful. In that case, it can lead to conflict. But, if someone is genuinely interested in learning, that's when acceptance starts to come in.

The least we can do is give others space to be who they are. We are all human. We all have the same rights.

Is there anything you would like to say to women pursuing a career in construction?
Have courage and don't worry if you start to feel alone. Know that there are so many people like you. There is no barrier that you think might exist.

Be proud of who you are. Pursue your ambition and I assure you that you will find a way.
Back to blog